How to get more out of your phone camera
Well these days every smart-phone has a built in camera.  We can take some amazing photos with just our phones.  Well if the conditions are right, such as lighting.
For example on the iPhone there are some pretty good basic functions that can help you achieve the scene you see in real time, in your phone camera.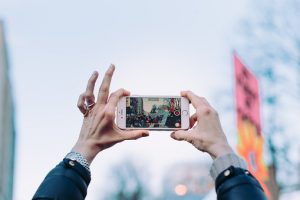 So lets start with a quick shot, you open your camera app.  Do you know that the iPhone has a quick access from the lock screen.  With the older models you would swipe up from the bottom and some of the newer ones you swipe from right to left on the lock screen and your camera will open.  When I first got my iPhone I didn't realize that this was possible and so I missed out on numerous impulse quick shots, because I had to enter my pass code then find the camera app.
So if you have are not in a rush to take the image and have some time to compose and play with what you see and what the camera sees and records we can go into a few of the basic settings.
These will be for iPhones but Android phones will have similar options. 
So lets start with the flash, the lightning symbol, if you click on it it will most likely be set for auto so it decides when there is not enough light and will go off. My preference is to turn it OFF as I want to be the one that chooses when I want it to go off.  
Learning to read light whether shooting with a DSLR camera, regular digital camera or even a phone camera can dramatically improve your shots. (More on this later on)
What I mean by this is (again in the beginning this will take a bit more time to get the shot) but it can give a different final shot. Yes you can do some adjustments after the fact in the editing section but I like to get the best shot possible straight out of the camera (SOOC).
So back to the flash, for now turn it off and see how much the camera will adjust for the light without using it.
Here is a little tidbit for you, that once I learned this helped me to get better shots too.
On the iPhones once you turn on the camera, hold it up to a scene you want to shoot if you watch the screen you will notice it focus and adjust for the lighting.  Now just for fun tap the screen somewhere bright in the scene. The camera will make that spot the proper exposure which most of the time will make the balance of your image darker.  It can help with getting a nice silhouette of a surrounding subject. Now do the opposite tap your finger on a darker part of the scene, you will see it will adjust the light to make it have the better lighting and in turn the area that was bright to begin with will be allot brighter or as we say it can be blown out which basically means that that particular area in the image you are composing will look so bright that it is washed out looking.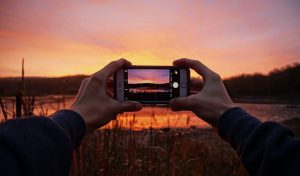 So here is my little tidbit you pick a scene, this works great for sunsets because there is usually allot of contrasting light, some spots very very bright and others dark or almost silhouetted. So again touch your finger on the screen on the brighter or more colorful area of the sunset, for example, and you will see a square box are come up where the camera is taking the reading for the lighting.  Just beside the square, usually yellow there is a small sun icon next to a line.  Ok here comes the fun part. Now take your finger and place it on this line and slide it up or down.  Yes you see right it is adjusting the light of the particular scene you are looking at, neat eh.
So you can now push the slider up or down and adjust the shot to where and what you are really seeing or to the way you want to see the final shot.
Yes this trick I use a lot when I shoot sunsets because the smartphone camera struggles to get the lighting to what I want so I use this technique to get a better image than just using the phone's own settings.
Well go out and try this little trick next time you see a neat sunset and shoot it the way you see it or shoot it the way you want to see it.  Have fun.
Check back as I will be adding more information about other iphone photography features.
So if you found this article interesting or would like to share some feature you have discovered that helps you with your iPhone or and smartphone camera please feel free to share below.