Getting to know your digital camera once you unpack it out of box.  Lots of buttons and bows…oh yes that would be bottons, knobs, symbols and more.
So now you have unpacked your camera, charged your battery and set the date.  Before this, if you have a new DSLR (digital single lens reflex) camera then you would of had to connect your lens to the body, following the manuals instructions.
So lets get to know more about the buttons and settings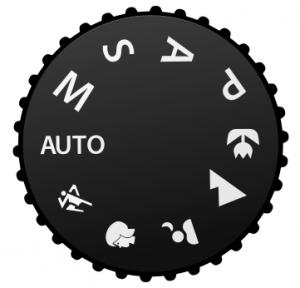 If this is your first SLR camera, I would suggest that you start out in the auto or "P" Program setting in these settings the camera will take care of most of the lighting and shutter speed and as you get more comfortable with your camera we will move towards understanding the uses of the other settings.
So beginning in auto you are giving the camera control of most all the settings to get the best result the camera thinks that you are looking to achieve.
Holding your camera
Now you just spent a lot of money on your camera and you surly want to do your best to not drop it, and you want to have the most steady hold for the sharpest of photos.
So the best suggested way is to hold the grip with your right hand and then you place your left had flat under the lens and grip lens, then you can easily set your distance and crop your scene and if for any reason you need to let your camera go with

your right hand you will have hold of the lens with the other ensuring good grip on your camera at all times and in doing so will have less chance of dropping it. And vise versa having a good solid hold on the grip with your right hand will also help.
Now to take your photo hand held
With holding your camera in both hands horizontal and looking through the view finder
Bring your elbows tight and close to your body
Bring your feet apart with one slightly in front of the other and lean slightly forward.  This will create your own personal tripod
Now frame your shot and watch that your fingers are not skirting the front of the lens
How to focus a digital camera
Gently press the shutter button half way down to focus, hold it down and compose your shot. (Do not lift your finger off the shutter button as this will cause you to loose your focus point and you will need to re-focus)
Hold your breath slightly or exhale, pause and press the button gently down all the way
Check your playback and see the image you just took.
For vertical or portrait orientation images you hold the grip or right hand on your camera to the top and again place your left under the lens for support and so that you can easily adjust distance and follow the steps above to take your photo.
Other ways to steady yourself while taking handheld photos
Some other ways that you can steady yourself more while taking hand held photographs is to
Lean on a fence
Against a tree
Basically steadying yourself against anything that will not move, look around its amazing what you can improvise with
You can also set and frame your photo and place your camera on a solid structure and set the self time (we will cover that more later)
If you have stopped your car to take a photo you can fully open your window and with the car shut off you can lean on the edge of the open window. A trick here you can put a short piece of pool noodle that has a slit in it over the partially raised window making it easier on your hand as well as minimizing slippage
A word of warning make sure that if you place your camera on something that is not a tripod and you use your self-timer, make sure it is on something secure. Your can wrap your strap around something for a bit of extra security.  Cameras are costly so use your best judgement.