A lens hood has a couple different jobs
You cameras lens hood can help to shield the front of your lens from the sun rays, or other bright unwanted light, from directly hitting the front lens element and scattering the light creating sun/light flares, those are the rainbow colored streaks and hexagonal colored shapes created when the sun reflects off the aperture.
Another job of the lens hood, or shade is it helps to prevent, minimize any damage to the front of the lens from the elements or in my case from slipping in the mud while out on an outdoor photo-shoot.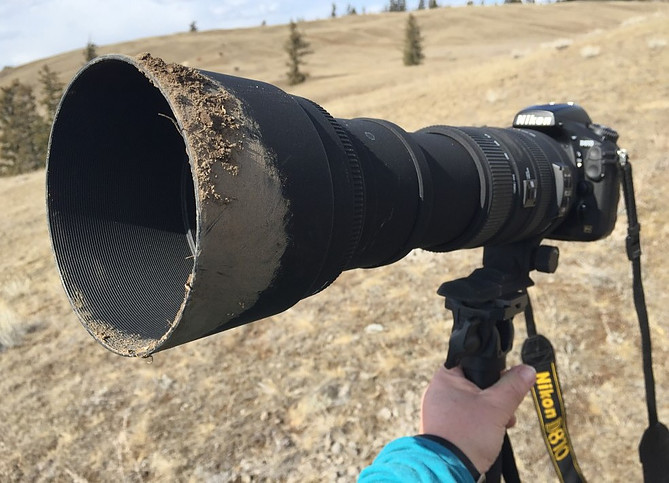 Here is what my lovely 150-500mm Sigma lens looked like after I tripped and then slipped in the mud. I was panicking, I tried to hold onto my mono-pod, which was attached to my lens and camera and hoping that my camera and lens were OK, and thankfully they both were and if I would not have had my lens hood or lens shade on the lens at this point, the outcome for my lens could have been disastrous.
So thankfully all was OK.  Washed the mud off the hood and cleaned up my camera and well, myself and off we continued on our photo shoot.
Other ways lens hoods protect your lens
So besides my tumble with this big lens and it landing on the hood, which protected the glass, thank goodness, Having the lens hood on your lenses all the time can also protect them when you accidentally bump your camera into things, that I have been known to do on occasion.
Generally when I am out on a photos shoot, whether for fun, assignment or searching out animals or doing portraiture, I do not leave my lens cap on my lenses as I feel that it takes to much time when I am ready to shoot or have to shoot fast, to remove the lens cap so that is why it is important for me to always, keep the lens hood on.
Lens hood use with on-camera flash
Now on the other hand when you leave the lens hood or shade on while taking a image using your on camera flash you will produce what is call a vignetting effect. This is a dark crescent shaped shadow will be cast on your image at the sides or bottom and this is not something that you would usually like to create.
What I usually do if I am in a situation where I am wanting to use the built in flash, I will quickly take it off and put it around my wrist until I am done shooting. This way I will know where it is so that I can put it back on as soon as I am done shooting.
Lens hood use with off-camera flash
With using an off-camera flash your light source is farther away from the lens and having your lens hood on would not create any vignetting and the use of the lens hood will also protect you from getting lens flare from any additional light sources that you might be using.
More about lens hoods
A lens hood attaches directly to the front of your lenses and they generally work best with normal, telephoto and zoom lenses.  It is not recommended to use a lens hood on a wide angle lens as this can create vignetting. Not usually something one wants to see in their images.
Can I get a lens hood for my lens if I do not have one?
Yes, if you do not have a lens hood for your camera you can purchase one. You will need to know the diameter of the front of the lens. This is written usually on the inside edge of your lens or on the outside front edge of your lens.
Well keep those expensive lenses safe by using your lens hoods and if you have it put away because you didn't think you needed to use it, go dig it out now and put it on the front of your lens.
Here is a hood package I found for the 55mm and 58mm lenses, but there are many more, depending on what brand and there are also some generic ones available too.
Keep that gear safe.