How to use camera with tripod
Tripod use sounds pretty simple but there are a few important things that you should take into consideration when using one. To start, how to use the camera with a tripod so that it stays stable and safe. Your camera is generally worth considerably more money than the tripod so you want to make sure it is very stable.

Attaching tripod plate to camera
Most tripods come with a quick attach camera to tripod plate. There is a lever on your tripod where you can remove and lock this plate. Check your manual if you have difficulty removing this plate.  Different models of tripods have on occasion a different release mechanism.  But for the most, they are a horizontal slide and some have a secondary lock to prevent accidental release.
Once you find out how your particular models release works, remove the plate.  Flipping your camera over, look on the bottom there you will find a threaded spot where you can thread your tripod plate to.  Make sure that this is tightened very snuggly and also watch that you put it squarely on the bottom of your camera.  Generally there is a manufacturer line or something that you can eye up so that you can square it off to.
Familiarize yourself with the tripod release attach mechanism
Now that you have the plate mounted to your camera, set up your tripod and test how it works (before going out into the field to photograph) so that you are familiar and can attach and release your camera from your tripod fairly quickly if needed without thinking about how this works.
Off to find something to photograph
So now that you are comfortable on how you can attach and release your camera from you tripod it is time to find something to photograph using your tripod for stability.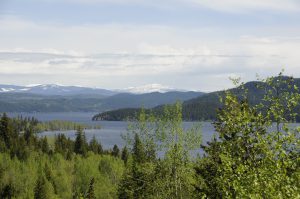 Start by finding your image composition first
It takes a bit more time to set up a tripod verses hand held shots, so finding your ideal composition
position hand held first, by looking through your viewfinder, and at it from different angles and heights will help. Once you find the spot its time to set up your tripod.
Setting the legs
Once you have found where you want to take you photograph from. Now extend the legs on your tripod if you have not yet done so.
Position your camera on your tripod, adjust the height, zoom and angle if needed, to frame in the image your are envisioning. Take your shot.
A tidbit about shooting while standing on a hillside when you are wanting to use your tripod.
Something that will help keep you and your camera steady, is to have one leg of your tripod in front and two at the back, and adjusting the legs height accordingly to get the head of the tripod level. The reason for having on leg in front of the lens helps to balance the weight of the camera and lens over the center of the tripod legs, this greatly helps to keep the camera steady and has less of a chance to fall over easily.
Mounting larger DSLR cameras in portrait orientation
Using what is called an "L" bracket mounted to your camera (like the tripod plate) Will keep your camera balanced and centered over the three
legs an as such keeping the center of gravity in the center of the tripod.
The "L" bracket base can be left on the camera all the time and be slid into a receiver plate on the tripod, both in horizontal and vertical orientation. Check my reviews for a bit more detail on this soon.
Lens collars
When you use long lenses, they generally come with a lens collar  but if they do not, you will want to get one, again to keep the camera and lens balance over the tripod legs.
These collars have a foot that have one sometimes two threaded holes that you can mount a tripod plate to.
See the top image of my camera mounted on the tripod with the tripod plate attached to the collar leg of the lens.
Its all about balance and keeping your camera stable so that you can achieve the best results possible for capturing those amazing and sharp images.